Third Draw, Winner Story
The 31st of December started out for Mr. Ologbonyo Ayodele as simply the last day of the year 2018. Being a pastor and a business man, he was occupied with making a few last-minute business engagements and also preparing for the cross over service in Church, which was to hold much later in the day.
Just two days before, he had urged his wife, after much struggle for funds, to stop by the Own Your Own office located along the Kubwa express way, to purchase tickets for the December draw. In his words,
"It was in fact a struggle because we did not have money to purchase tickets. We had already spent all we had believing that more will come. However, on that very day (29th December), I received the text message saying it was the last day for the purchase of tickets for the December draw. I called my wife and we thought about what to do. Finally, as God will have it, my wife was able to raise some money. But this time around, unlike the previous draws, we were only able to buy two tickets."
Fortune they say, favors the brave and this is indeed the testimony of Mr. Ayodele. In his own words, "You have to be willing to give out, in order to get." He recounts that on the draw day (December 31st), he had gone about his day's work, and although he had been present at all previous live draws (October and November), he had not planned on attending this month's raffle draw. Instead, he chose to say a prayer, along with his family, that God "send his angels to take charge of the outcome of the draw, to his favor". Mr. Ayodele can now boldly testify that, this time his prayers got a speedy answer.
Recounting Raffle Draw Day- 31st December 2018
Mr. Ayodele, who lives in Bwari recounts that he had left home, heading to Suleija, at the same time the live raffle draw was happening, and had in fact passed by the venue on his way. He had concluded that whatever the outcome would be, he had asked God's angles to "take charge".
Barely 20 minutes after getting to his destination, Mr. Ayodele got the call that has changed his life forever! He received a call from a representative of the Own Your Own promotion announcing to him, upon verification of his identity, that he had emerged as the lucky winner of Flat 7, the grand prize for December 2018 draw. A premium two-bedroom apartment!
He recounts that as soon as he answered the call and the caller mentioned his full name, asking him to confirm he was the one, he excitedly turned to those around him and whispered, "I have won a house! I have won a house!"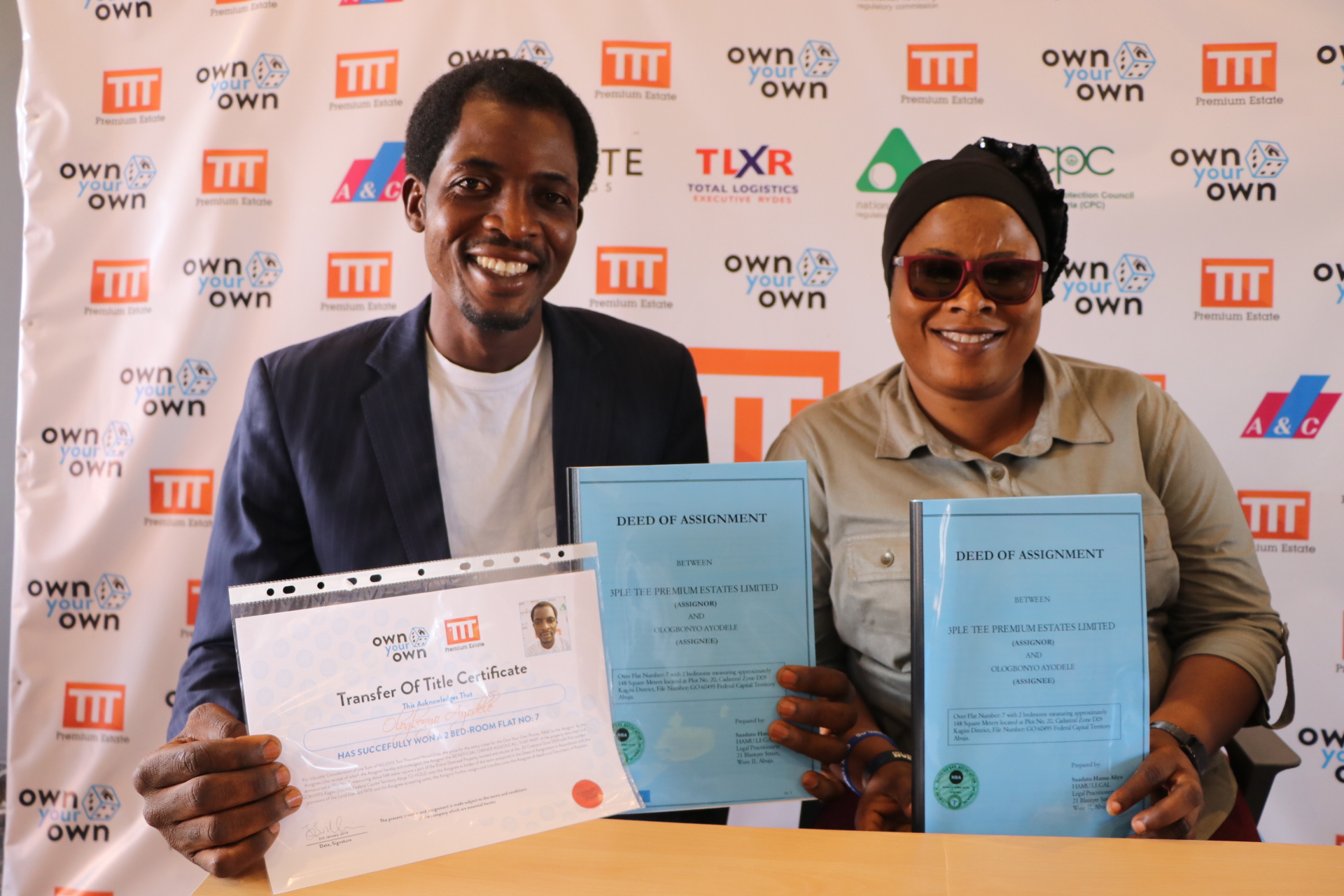 The Own Your Own Media Team was dispatched to pick-up the winner, Mr. Ayodele who arrived the venue to a hero's welcome from other participants and members of the public attending the draw and waiting expectantly for his arrival. He was joined shortly after by his wife, Mrs. Taiwo Ologbonyo, and two of their children and together took a full tour of their brand-new home. Their Joy is better experienced, than imagined.
On a live radio interview with Wazobia 99.5 fm Abuja, Mr Ayodele speaking about his big win, revealed with  confidence, "I prayed for it, I prophesied it. I told everyone that it will happen!"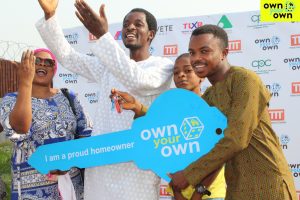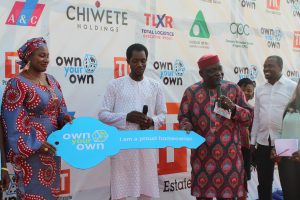 Own Your Own- Beyond a Promotion.
Own Your Own is a movement, beyond being a promotion.  It's a movement, styled as Nigeria's premier and leading win-and-own a home, nationally run promotion by a 100% owned Nigerian real estate firm, Triple-T Premium Estate Limited.
Triple-T chose to run the Own Your Own promotion regardless of the numerous questions that are sure to arise in a society where trust is very low, and for obvious reasons.  However, the Own Your Own promotion's vision and driving force is to change the trust narrative, by delivering the Own Your Own promotion, to the very best in class standards. Through a fair, transparent, credible process where each draw is live and independently managed.
Own Your Own promotion by its design and long-term objectives, is set up to make a positive social impact. We do consider this promotion as one way we can contribute and be part of the solution to the housing challenge in Nigeria. Own Your Own offers Nigerians from all walk of life, class or social status a real, once in a life opportunity of becoming a landlord –owning their very own premium built Home.
One House, One Draw, every 30 days – and the fortunes of a Nigerian family is changed for good, forever.
Own Your Own; touching lives one house at a time. It could be you! Next
Who's Next?
1st Draw (October Raffle Draw) for Flat-9 Won by Mrs. Joy Maha on the 31st of October 2018
2nd Draw (November Raffle Draw) for Flat-8 Won by Mr. Austin Arinze on the 1st of December 2018
3rd Draw (December Raffle Draw) for Flat-7 Won by Mr. Ologbonyo Ayodele on the 31st of December 2018
Ticket sales for the 4th raffle draw for the month of January 2019 is open!
Entries for this month's raffle closes on the 28th of January 2019.
The Ball is now in your court – ENTER OWN YOUR OWN NOW
Own Your Own Continuity
Own Your Own promotion is designed to run in phases, each housing development project, is set out as apartment's blocks with premium-built 2 Bed Room en suite, and homes. Located in easily accessible and serene environment with adjourning beautiful garden space.
PHASE 1 COMPLETED – NOW ON PROMO
PHASE 2 ONGOING
Comprises of 12 premium apartments of two- bedroom en suite flats. Design approved, project commissioned, and is now ongoing.
How to Own Your Own, Enter the Monthly Draws
Ticket sales for each draw are open for a 30-days period and once this period elapses, sales are closed for that draw and then a live raffle draw is conducted by the independent auditor one day after all purchased tickets are collated and verified.
Raffle draws takes place right at the property being won.
A participant who wishes to enter the monthly draw raffle to stand a chance at winning can buy tickets.
Tickets cost N2000 only – and each ticket has a unique number and the more tickets entered into the draw by a participant, they further better their winning chances.
Each live Raffle draw is monitored by representatives from key government agencies The Consumer Protection Council and the Nigerian Lottery Regulatory Commission.
Triple-T Premiums Estate Limited had applied and received the relevant permit from both, Consumer Protection Council of Nigeria (CPC) and the Nigerian Lottery Regulatory Commission (NLRC) in order run this promotion and do so under strict guidelines and monitoring by these agencies.