Seventh Winner's Story
In a time when Nigeria's wonderful economy looks unstable and its housing challenges are rising through the roof with the rate of home ownership the lowest in Africa. Mr. Christopher Maduora, a business man in one of the popular suburbs in Abuja became our 7th winner in the Own Your Own promotion.
Mr. Christopher Maduora emerged victorious as the 7th lucky winner of our premium brand new two-bedroom apartment in Abuja. He lives in a rural area located in Suleja, Niger State. Although not an ideal place for him and his family but it is where they agreed to settle in. Aside being a father of six children and a business man dealing on timber that is not widely regarded as a hot commodity in the Nigerian market today, his monthly income is barely enough to get things going for him and his family. But this didn't deter his faith or stop him from getting his tickets.
On April 3rd, 2019 he bought just two tickets for the first time to participate in the Own Your Own promotion, one ticket for him and another for his wife. And in 26 days later, without much hassles he became our 7th and latest winner in the Own Your Own promotion. We asked him during an interview on how he got to know about the Own Your Own promotion.
His response was "i heard people talking about Own Your Own everywhere and how people were winning houses worth millions with an unbelievable amount of NGN2,000. I decided to try and see for myself which is why I bought two tickets and to the glory of God I am now one of the winners"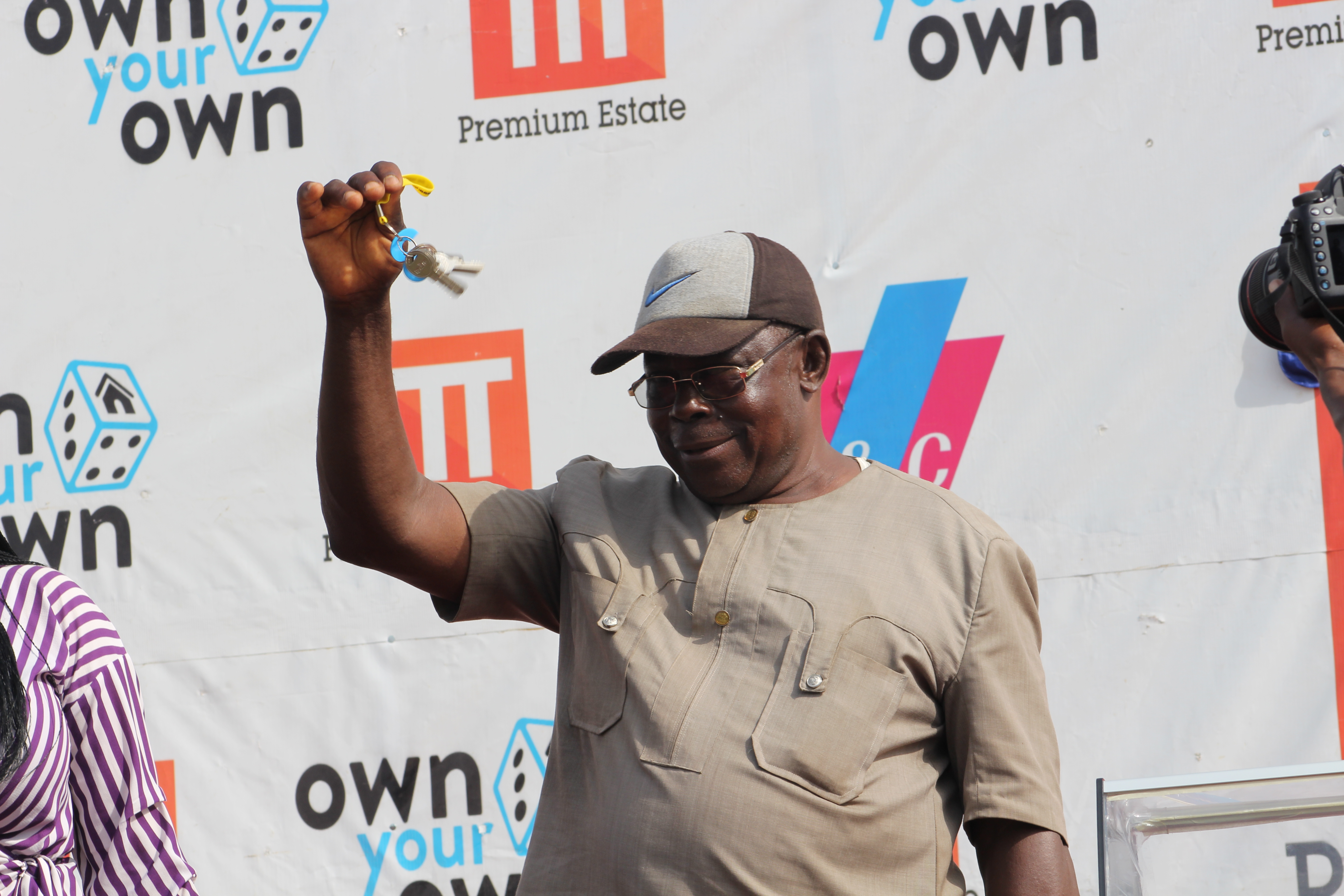 Another question was asked on what he plans to do with his new found asset, will he live in it, rent it or sell it? His heart touching response was
"I thank God for this wonderful blessing he has given me, I cannot sell it because I don't have the mind to but I will rent it out to a very good person who will take good care of it for me."
Once again, we have kept to our promise of one house one winner every 30 days and with love from our hearts, we say a big congratulations to Mr. Christopher Maduora and family.
Recounting the draw day – 29th April, 2019
The day came for the 7th draw of the Own Your Own promotion and it was filled with intrigue, suspense, a lot of side talks and questions with people wondering and praying they would be the next winner of the brand new two-bedroom apartment.
The draw was held at the property to be won on Plot 20 Kagini District, Opposite Arab Junction, Kubwa Expressway, Abuja. Representatives from the Nigeria Lottery Regulatory Commission (NLRC), the Consumer Protection Council (CPC) and an independent auditor (Adenusi and Company) were all in attendance to supervise the raffle draw proceedings and ensure its transparency.
But we didn't stop there in our bid to erase all doubts about the Own Your Own promotion's transparency and credibility. All the names on the tickets participating for the 7th draw was called out by both the M.C and a staff of Triple-T Premium Estate while equally being supervised by representatives of the NLRC, CPC and the independent auditor; Adenusi and Company. Participants who were present at the live draw signaled their presence at the mention of their names.
Heading straight into the moment that we have all been waiting for, two non-participants a male and a female were invited from the audience. Both were blindfolded, the blindfolded female rolled the raffle drum and shuffled the tickets inside it, while the blindfolded male was asked to shuffle the tickets again before eventually picking the winning ticket.
Hearts pumped faster, fingers were crossed, mouths open wide and prayers were said silently when a ticket was drawn out from the raffle drum and behold Mr. Christopher Maduora with Ticket Number F25EF65 was announced as the winner of the 7th draw of Triple-T Premium Estate's Own Your Own promotion.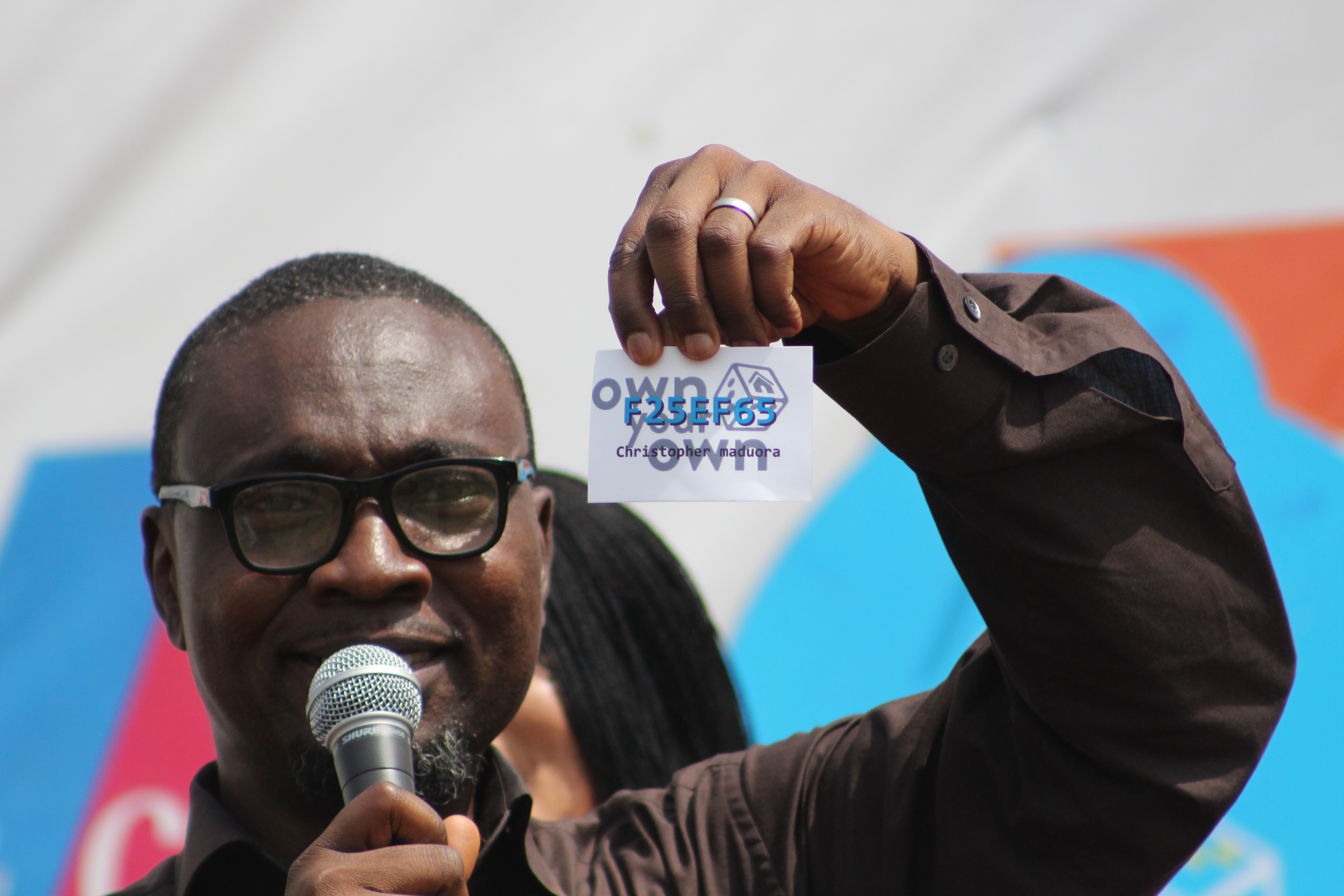 Following the normal standard procedure for contacting the winner if they are not present at the draw of the Own Your Own promotion, a live phone call was placed by the host M.C Ebeneza through the public address systems for all in the crowd and those watching it live on our social media channels to listen in as the good news was delivered to the winner.
Mr. Christopher was picked up from his place of work by the media team. On arrival to the draw venue, a jubilating Christopher wasn't with any means of identification to be verified before he was given his key and shown to the apartment that now belongs to him but that didn't stop him from sending his friend back to his work place to retrieve his identity card. A crowd of well-wishers made up of other participants and non-participants at the draw all gathered around to celebrate and congratulate him.
He never believed he would own a home of his own in Abuja worth millions with an unbelievable token of N2000, the cost for a raffle ticket and 100% home ownership but today he is a proud homeowner of an exquisite two-bedroom apartment.  He got the title deed for the apartment won and the winner's certificate the very next working day, signed, sealed and delivered at the signing and handover ceremony.
Own Your Own – A social movement and not just a promotion
7 months and counting! We are moving from one bar strength to a higher bar strength and we don't intend to stop. The Own Your Own promotion was designed by Triple-T Premium Estate to put a smile on the faces of Nigerians, improve the rate of homeownership in Nigeria, be the 'go to guy' for Nigerians facing housing challenges.
We have kept to our promise in seven months with seven winners emerging as brand new home owners. We are always striving to make a positive social impact by providing a unique solution to the housing challenges in Nigeria ensuring that every 30days, throughout the 365days in a year, one brand new homeowner must emerge and that is 12 winners every calendar year. We are proud and we love what we do.
The Phase Two of the Own Your Own promotion is about kicking off in June, 2019. Twelve brand new two-bedroom apartments are to be won in this phase. All the bedrooms within the apartments are en-suite with bathrooms. The apartments are equally tastefully furnished with wardrobes and kitchen cabinets.
And this goes to say that we are not relenting until we achieve that which we set out to do. At Triple-T Premium Estate, we are built on transparency, integrity, credibility, hard work and we are always delivering premium quality projects. The next winner in the Own Your Own promotion could be you only if you take the chance.
Own Your Own, touching lives… One house at a time.