Sixth Draw, Winner's Story.
As the saying goes "after rain comes sunshine" for behind every dark cloud the sun always still shines,this was definitely the case for Mr. Michael Uyah, a young man who trades in timber at the Dei-Dei timber market in Abuja, he had just been bereaved of his mother and after the funeral, he returned to Abuja where he resides and was faced with expiration of his house rent.
In the month of March, he entered the Own Your Own promotion just to give it a try, and fortune smiled on him as beyond his wildest imaginations he emerged as the 6th  lucky winner of the Own Your Own promotion, a win and own a home promotion 6th raffle draw held on the 30th of March, 2019. Mr.Uyah had ticket number 16C9B6A .
Mr Michael Uyah could not contain the excitement once he got the news as he had only bought his raffle ticket for the  March draw on 16th of March, 2019 and in just two weeks later (14 days), he became a homeowner, without buying land, iron rods or even a bag of cement.
In his words "I decided to buy the ticket for N2000, as it may seem like a big money but as traders I know we can spend even more just to have a drink, so I just bought the tickets and prayed over it"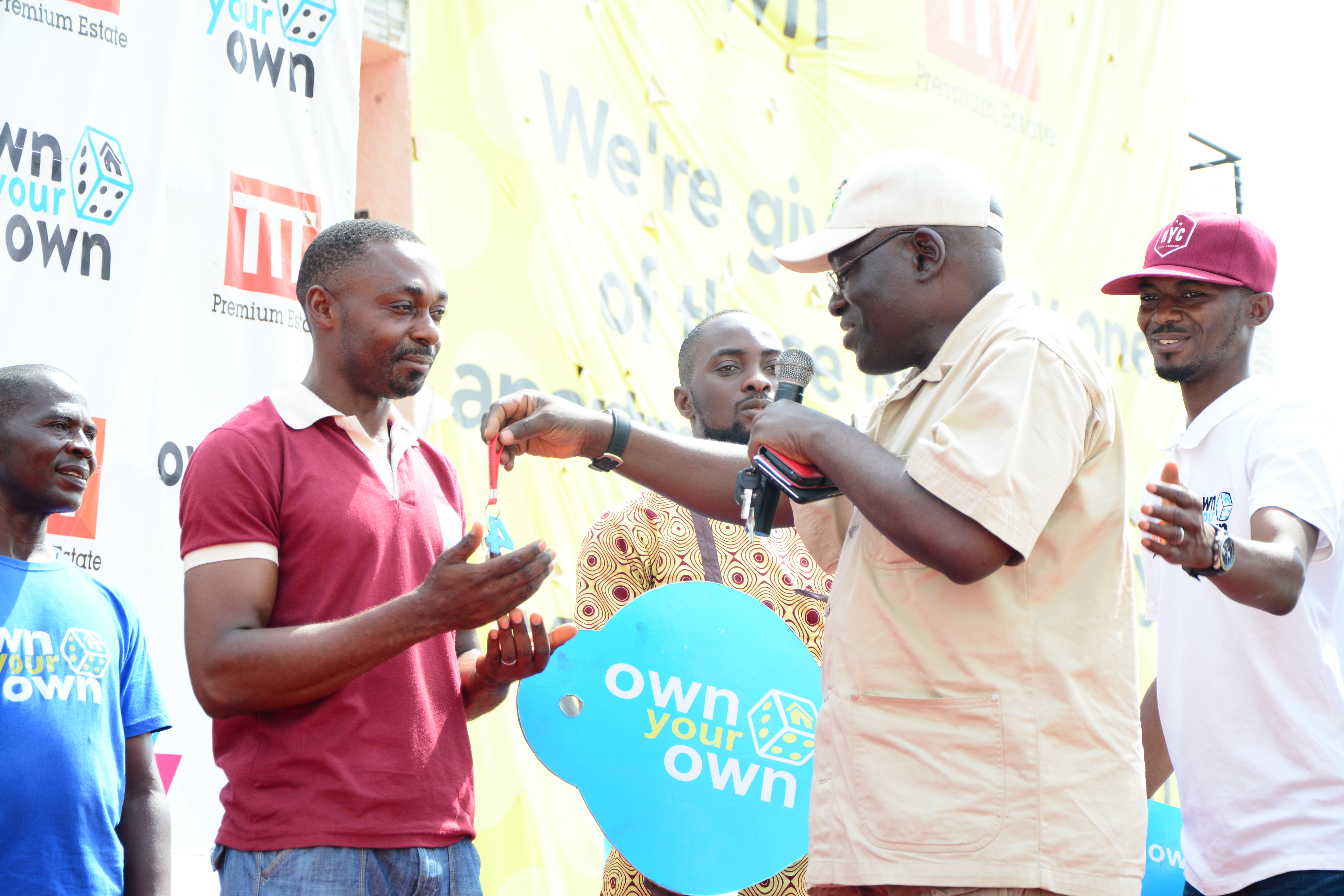 Recounting his housing challenge, Mr. Michael Uyah said his rent was already due in the month of March and having spent so much money during the funeral of his Mother, his finances were not in the best of shape so paying his rent now due is a challenge. He was struggling to come up with the rent money and pay to avoid him and his family from being embarrassed by his landlord.
So for the Uyah family, the Own Your Own promotion indeed had turned out to be a life-saver, fulfilling the objective behind the promotion which is Touching lives, one home at a time. Mr Uyah had this to say while being interviewed about his winning on a live radio program on Wazobia FM. He spoke in mixed English and Pidgin saying.
"It is a real something, there is nothing like wayo, I wasn't even there when they did the draw but they called and picked me up from my timber shed. This one na real and not like other lottery companies,buy your ticket and pray"
Recounting the draw day – 30th March 2019.
The sixth draw of the Own Your Own promotion by Triple-T Premium Estate Limited was held at the phase one properties now being won, located on Plot 20 Kagini district, opposite Arab Junction, along the Kubwa expressway, Abuja, Nigeria.
In attendance at the live draws were the representative from the Nigeria Lottery Regulatory Commission and the Consumer Protection Council who monitor the process to ensure compliance with their given guidelines.
Each monthly live raffle draws are also conducted by the independent auditing firm (Adenusi and Company), an indigenous firm of chartered accountants.
The draw process is simple and not automated, it starts by filling the raffle draw drum with all raffle tickets bought by participants for the month of March.
This transparent box with all tickets is then rolled by picking a random person from the audience, however, this person must be someone who isn't a participant and the final process after the box has been thoroughly rolled and tickets mixed, another member of the audience also someone who is not a participant is called to pick the winning ticket.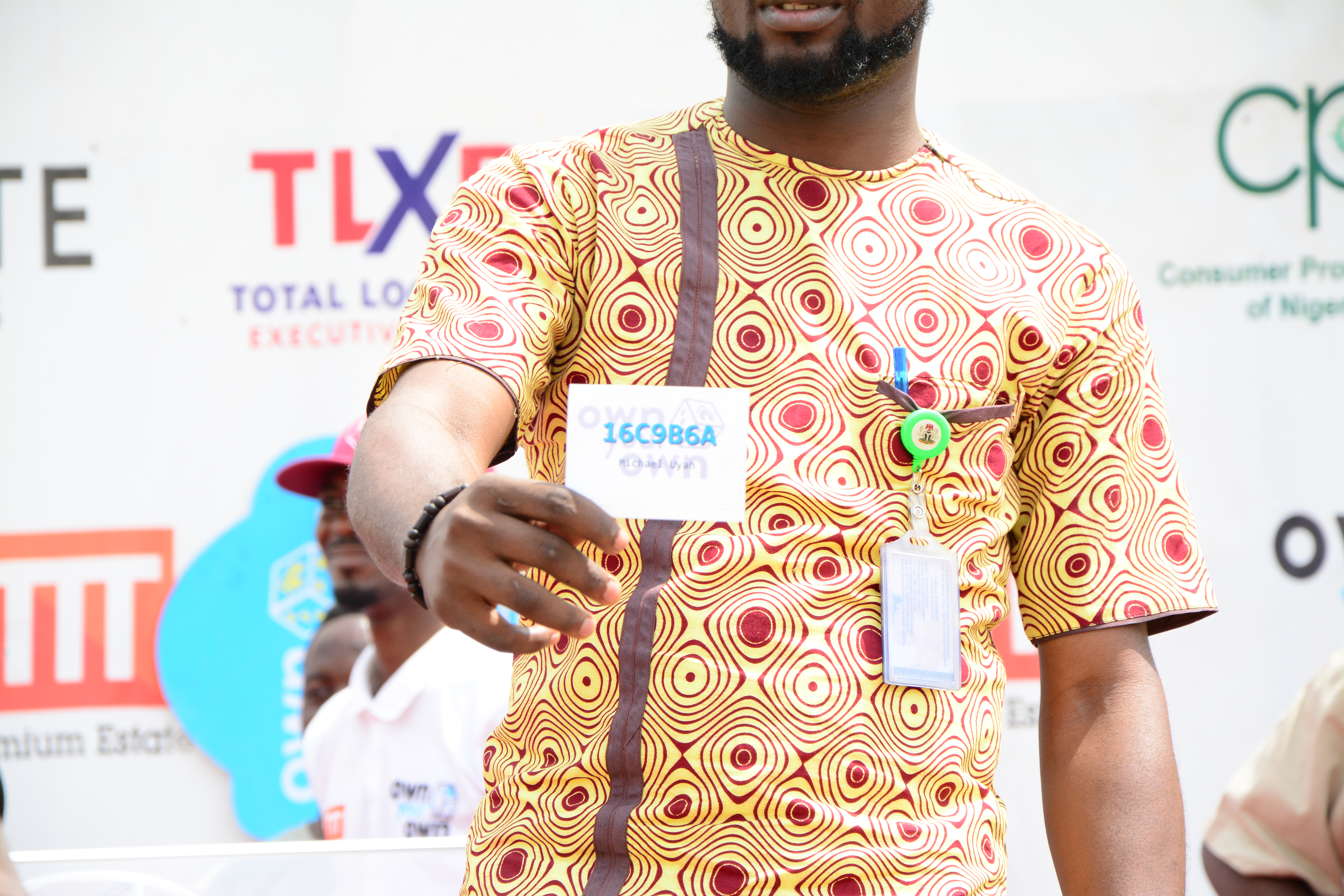 Ticket Number 16C9B6A  with the name Micheal Uyah was the lucky drawn ticket and was announced as the winner of the 6th draw of Triple-T Premium Estate's Own Your Own promotion.
Following the standard procedure for contacting any winner if they happen to not be present at the draw, a live phone call was placed by the host M.C Ebeneza through the public address systems to the winner. As the good news was delivered to the winner he didn't believe it at first and thought it was a joke played by his friends who knew he had bought a ticket to enter the promotion.
The media team of Own Your Own promotion headed out to his location to pick him up. On arrival, they met a now jubilating Michael who on seeing the team from Own Your Own promotion knew indeed fortune has smiled on him. The team verified his identity and he was brought to the venue of the raffle draw before he was given keys to his flat won and shown his apartment. His friends who came with him and well-wishers joined him in wild celebrations.
Like many still renting a house in Abuja, Michael believed owning a home is a pipe dream, so the opportunity of winning a house of your own, that offers 100% ownership with no strings attached seemed too good to be true, he had his doubts but took his chances and fortune smiled on him.
In line with Triple-T Premium Estate limited procedure, the signing and documentation ceremony was held the very next day and Micheal got the property(Flat) deed of assignment in his name for the apartment won and a winner's certificate, signed, sealed and delivered.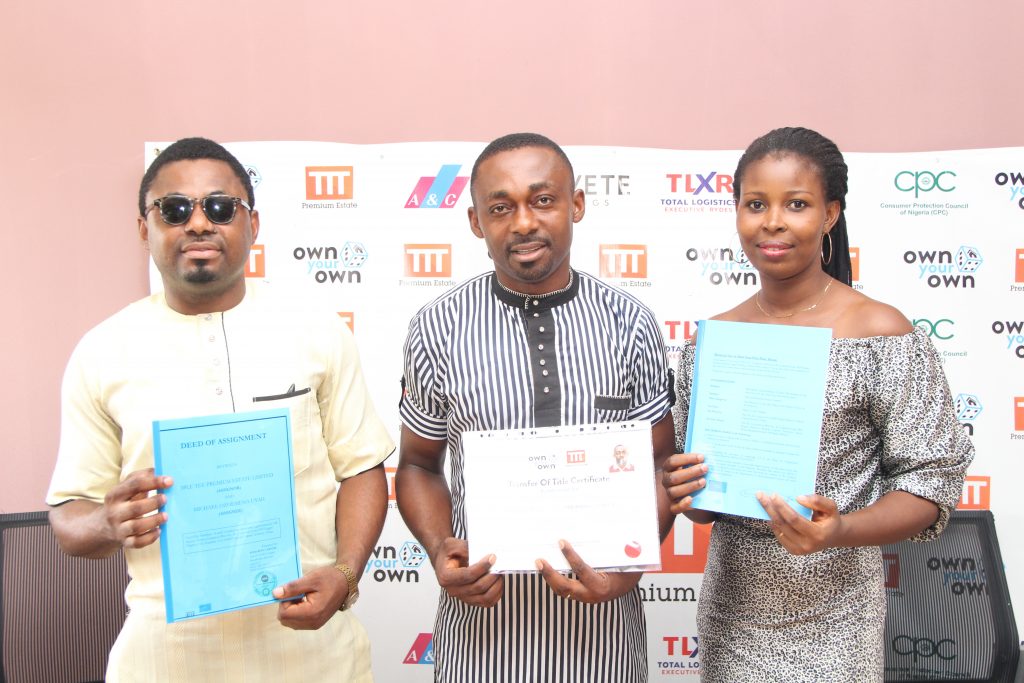 A Hearty congratulations to Mr. Michael Uyah, from all of us at Triple-T Premium Estate Limited and our partners.
Own Your Own – A social impact movement and not just a promotion
The Own Your Own promotion is being powered by Triple-T Premium Estate limited and is beyond just a raffle draw promotion, from its conceptualization its goal is to be social movement driven to make an impact and not solely for profit. Hence central to this vision is touching the lives of Nigerian families.
We believe what we do makes a positive social impact as our promotion is definitely playing a part in the drive to find a sustainable solution to the housing challenges in Nigeria. As every 30days throughout the next 365days, one brand new homeowner must emerge, the ripple positive effect for the winner and his family can only be imagined.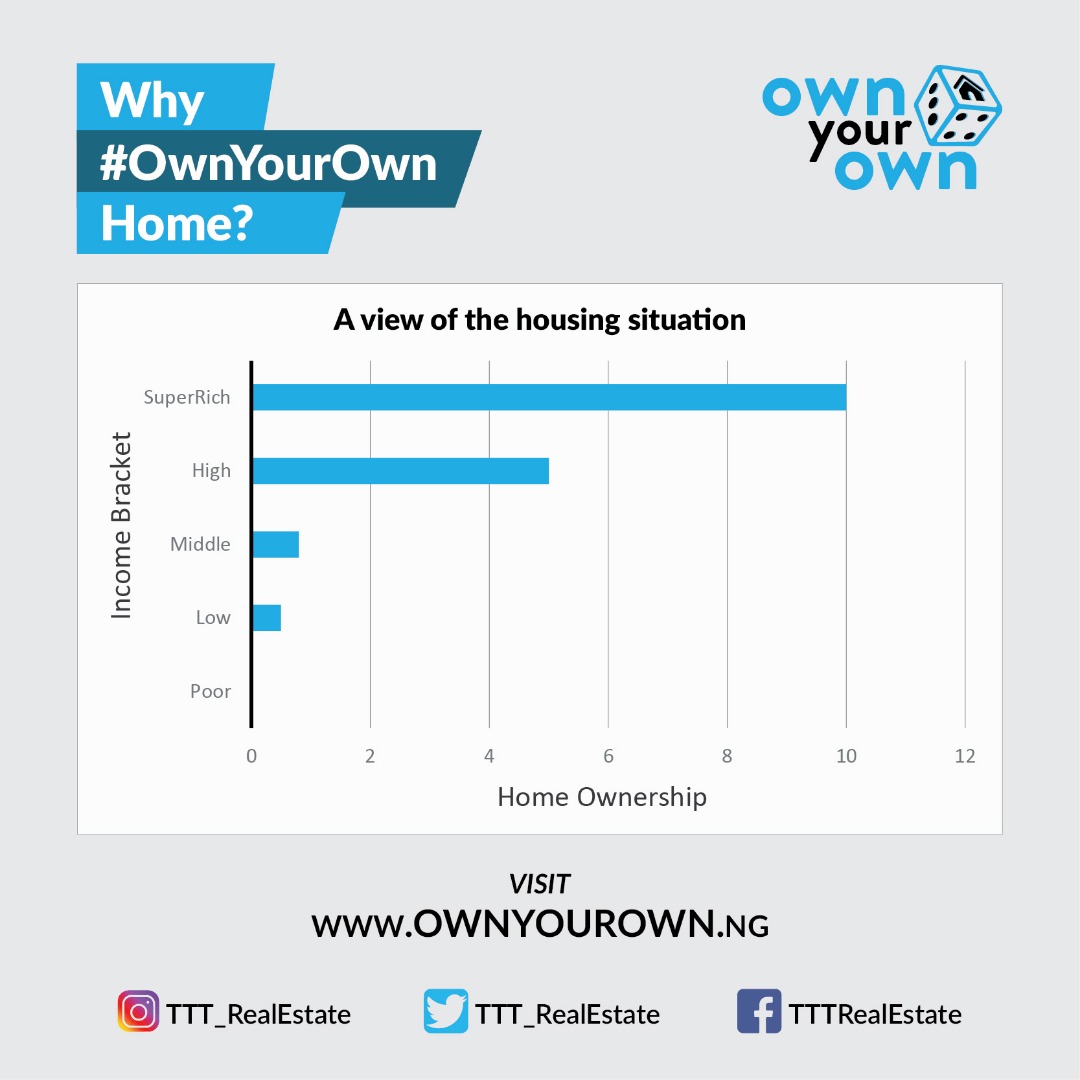 Our long term goal is to focus on continuity of the Own Your Own promotion, and thus with each draw, we are striving to make further investments in acquiring land and developing properties in decent locations in urban centres starting with Abuja and to continue executing housing projects specifically designed for the Own Your Own Promotion.  This is by no means an easy feat, thus it is by the continued participation of Nigerians we would be able to sustain running this promotion for the long term.
The Own Your Own Promotion from conceptualization was designed to run in phases consecutively and the initial financing for these projects was secured, ensuring that each housing project would be completed on schedule and then be on promotion only when completed 100%  as winners must get brand new premium apartments.
Phase 1 (Currently running) – is now on promotion and being won, it consists of a block of Nine, Two-Bedroom en-suite. Six of Flats has now been won with three flats left.
Phase Two – consist of A block of Twelve, Two Bed Room Flats en-suite,  this project is in its final stages of completion.
Phase Three -consists of a block of Six, Two Bed Room Ensuite Flats, construction has already commenced after the groundbreaking.
Own Your Own promotion thrives on complete transparency in the process and credibility of the system, as we believe this is the only way participants would be assured that this promotion indeed offers them a chance to win a home and own that home for life.
Own Your Own,  we are all about touching lives, one house at a time.