Fifth Draw, Winner Story
The month of February is often regarded as the shortest month in the year but turned out to be a Life-changing month for Mr. Micah Nnacheta, a timber seller at Dei-dei timber market, Abuja Nigeria.
Own Your Own promotion, a Win and Own a home promotion, held its 5th raffle draw on 28th of February, 2019 and Mr. Micah Nnacheta with ticket number 54FE83B emerged the 5th lucky home winner of the Own Your Own home promotion by Triple-T (TTT) Premium Estate now in its fifth month.
Mr. Micah first heard about the promotion during one of the Own Your Own outdoor marketing team visit to Dei-dei timber market in November 2018. He decided to buy his first tickets in December 2018 and then bought other tickets in January 2019; though these two previous attempts were not successful he was relentless. He bought tickets to enter into the raffle draw for the month of February, precisely on the 18th of February, 2019  and unknown to him on this day fortune had already smiled on him as he bought that golden ticket that made him a homeowner just ten (10) days later.
In his words, "winning a house in Abuja is a wonderful feeling. I am now so popular in Dei-dei timber market, people now greet me every day and some go as far as shaking my hands because they want to tap my winning anointing"
Recounting his personal housing challenge, Mr. Micah said he has always had issues with landlords regarding his ability to pay his house rent on time and sometimes he ends up being dragged to court by landlords. Though it seemed like a long shot, he saw the Own Your Own promotion as a great opportunity that can permanently solve his housing issues.  So after buying his ticket, he told his children that they should start praying so that they too can be landlords. Indeed for the Nnacheta family, God answered their prayers through the Own Your Own promotion and their willingness to persistently participate.
When asked during a live radio interview at ( Wazobia FM Abuja) if he will sell, rent or move into the house, his response was "I am moving into the house because its an upgrade for me and my family, besides this is the month of March and we are marching forward"
Recounting Raffle Draw day – 28th February 2019
As always, the fifth draw of the Own Your Own, home promotion by Triple-T Estate was held at the property being won, on Plot 20 Kagini district, along the Kubwa expressway Abuja, Nigeria.
In attendance were the representative from the Nigeria lottery regulatory commission and the Consumer protection council. The raffle draw process was managed and conducted by the independent auditors (Adenusi and Company) an indigenous firm of chartered accountants. They verify and collate all monthly tickets purchased and run the raffle draw on each monthly draw day.
The raffle draw drum containing all tickets bought for the month of February by participants was rolled by a guest from the audience and the winning ticket was then picked by another guest also from the audience, both persons were not participants and were equally blindfolded during this process.
Once the ticket was drawn, Ticket number. 54FE83B with name Micah Nnacheta emerged the winning ticket for the 5th draw for Flat 5.
Interestingly like previous home winners,  Mr. Micah could not make it to the draw as he had to be at the Dei-dei timber market where he works daily. Following the standard procedure for contacting the winner if they are not present at the draw, a live phone call was placed through the public address systems for all to listen in as the good news was delivered to the winner.
Mr. Micha took a motorbike and rushed down to the draw venue. A joyful Micha on arrival, after verifying his identity he was given his key and shown to the apartment that now belongs to him -100 %, and he is now a Landlord in Abuja. In his words "I feel like fainting" a crowd of well-wishers made up of other participants at the draw all gathered around to celebrate with him.
Mr. Micah a proud father of two boys and two girls, who had before now believed owning a home of his own in Abuja was virtually impossible based on his income, grabbed the unique opportunity the Own Your Own promotion offered. 100% home ownership with an unbelievable token of N2000, the cost for a raffle ticket and today he is a proud homeowner of an exquisite two-bedroom apartment.  He got the title deed for the apartment won and the winner's certificate the very next day, signed, sealed and delivered at the signing and handover ceremony.
During another recent radio interview at Wazobia FM, an overjoyed Mr. Micah prayed for Triple-T Premium Estate, saying  "God will decorate them as they've decorated me, their business will never fail but move forward, they will move from glory to glory"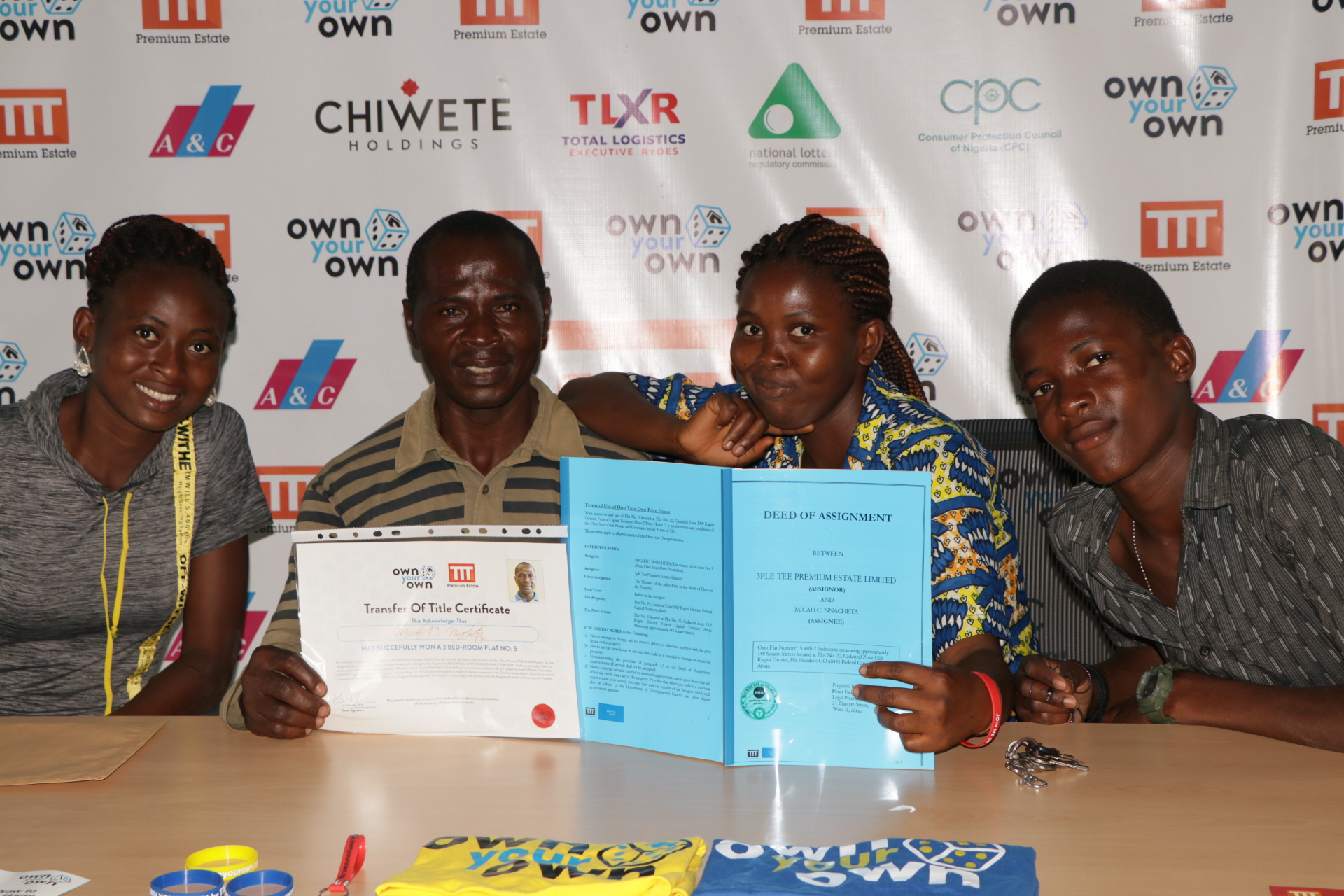 Congratulations Mr. Micah Nnacheta, from all of us at Triple-T Premium Estate and our partners.
Own Your Own Promo – Beyond a Promotion, It's a movement
Own Your Own promotion by Triple-T Premium Estate is beyond a promotion, it's a social movement, one with a vision of touching Nigerian families live, one house at a time. Through your active participation in this promotion, you become part of this movement helping us to continue ensuring that every 30days, throughout the 365days in a year, one brand new homeowner must emerge.  As we continue to make substantial investments in acquiring and in decent locations in Abuja and continue to execute housing projects specifically designed for the Own Your Own Promotion.
While our Phase One – A block of Nine, Two Bed Room Ensuite Flats, is currently on promotion with 4 more flats to be won.
Our Phase Two – A block of Twelve, Two Bed Room Ensuite Flats, is in its final stages of completion
And our Phase Three project – A block of Six, Two Bed Room Ensuite Flats, has already commenced.
Own Your Own promotion is a first of its kind, run by a Nigerian Real Estate Company our operational ethos are integrity, credibility, hard work and always delivering premium quality projects.
You could be the next person singing " Oga Landlord, am ready to go, are you Happy for Me" through Own Your Own, touching lives, one house at a time.