First Draw, Winner Story
The 9th of October began like any other day for our winner, but on this day Mrs. Joy Maha made a simple decision that will change the course of her and her family's life for good.
On her way to work that day, after seeing the Own Your Own promotion billboard like she had seen it many times before, she decided on this day to take action, a simple action. In her own words, she said: "I kept seeing the billboard every morning on my way to work and just decided to give it a try" she went online to www.ownyourown.ng and bought tickets.
As a Christian, Mrs. Joy must have been following scripture, because her action can be described as that of a wise woman. The contemporary English version of the Christian holy book, the Bible in Proverbs 31: 16 says of a wise woman "She knows how to buy land and how to plant a vineyard".
Although Mrs. Maha didn't buy a land, her simple act of buying tickets to enter into a draw that could offers her a chance at winning a brand new apartment in a city like Abuja, the federal capital of Nigeria famous for its beauty and expensive house rent, was an action that typifies a wise woman.
One who would always consider the huge benefits that could come with her family owning a brand new house of their own. They say "what you think about, you bring about" and interestingly Mrs. Maha said she made a comment at work that "she would love to have a house in her own name" and how true indeed that dream, turned into reality faster than she would ever have imagined, watch her tell her story.
Watch Joy and Husband, tell their Story 
Recounting, Raffle Draw Day -31st October 2018
Mrs. Maha was not at the draw event held right at the property on plot 20 kagini district, along the kubwa expressway Abuja, Nigeria.

A phone call was placed through to her phone number,the initial winning phone calls went unanswered, however the next of kin phone number,that of her husband Mr. Maha, she provided when purchasing her ticket was called and he answered.

He was given the good news, but he didn't believe it, it took a bit of convincing though still not 100% sure this is for real he agreed to contact his wife with the news. So you could only imagine what it felt like when media crew from own your own promo, eventually picked them up and brought them to the property.

The air was electric on arrival, they got a hero's welcome with the song "we are the champions" by Queen playing in the background and everyone including participants who didn't win on this draw were happy for them.

The own your own promotion manager presented them with the keys to their very own flat, apartment number 9. that same day. How best to end the month of October, but by becoming a landlady .That's our goal, one house won every thirty days.

The official handing over of the deeds of assignment and certificate of ownership was presented to Mrs Joy Maha the very next day 1st November.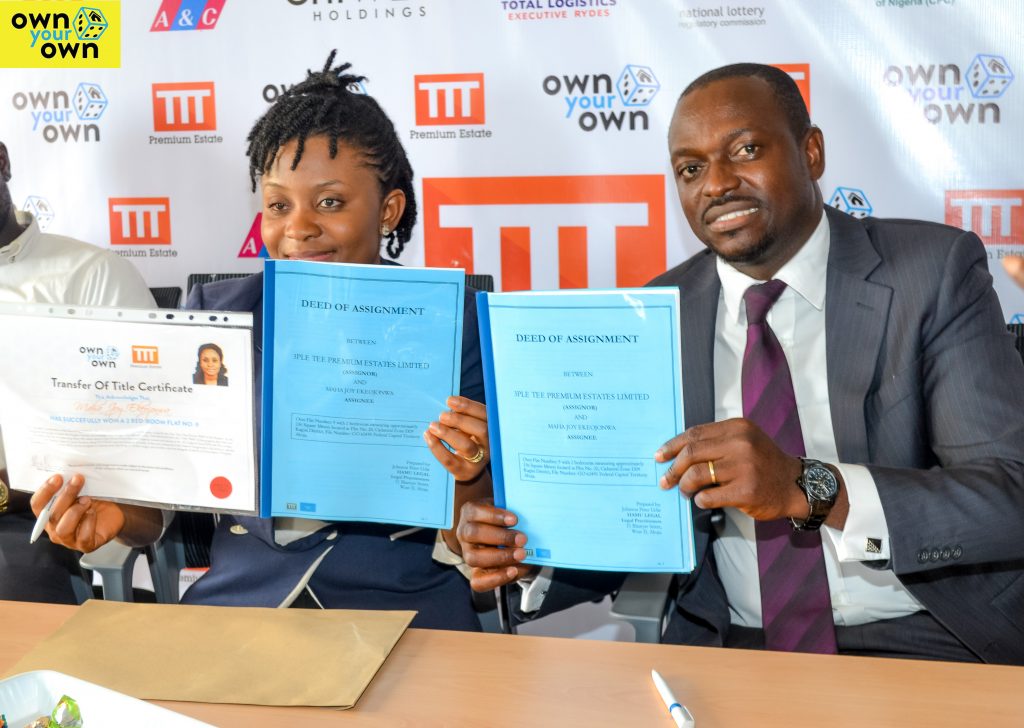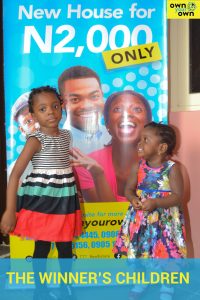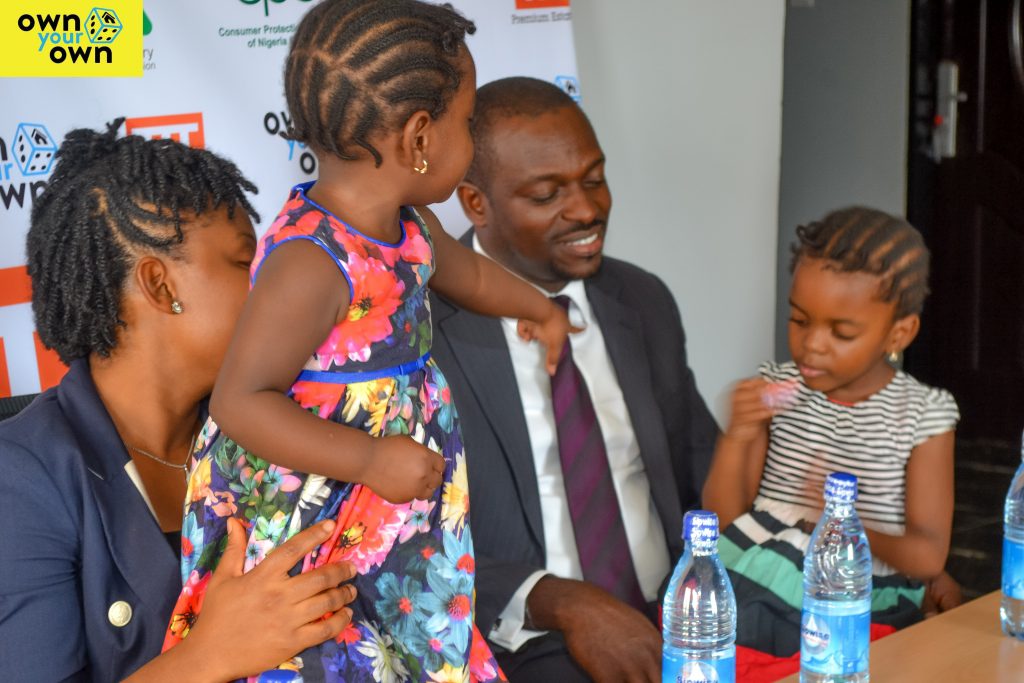 From all of us at Triple-T Premium Estate and our partners, we say congratulations, we are happy for you all and trust this win opens up even more doors to greater heights
Enter Now: OWN YOUR OWN 
Winning A Home.
The possibilities are endless on winning a house, you can live in it, you can rent it out and make a new stream of income or you can sell it outright and make a lump sum to invest in your business, family, career or whatever you deem fit.
Truth be told who wouldn't want to win a home?
First, you don't go through the hassle of buying or acquiring land, getting relevant building permits and a building design.
Secondly, you don't have to come up with the huge cost upfront to put steel rods, brick, and mortar together to get you a beautiful structure
Thirdly you don't have to worry about the cost of giving it an excellent finishing.
Well, now with Triple-T premium Estate unique promotion Own Your Own, we take all of that out of the way for you. We build premium homes, not for sale or rent as there are many of these options already available. With Own Your Own you can win a home if you are willing to take a chance and opt-in to each monthly draw, go past your doubts and skepticism.
It is not impossible to own your own home by winning it, Mrs. Joy Maha is a living testament.
Now there's a new mix  in the real estate sector of  how to own a home in Nigeria. Some can build, some can buy, some can even inherit, but everyone can stand a chance at winning through the #ownyourown Promotion.

Every month a Nigerian family would walk away with a brand new home of their own, full ownership – the keys, deeds, and all titles. Now you can win a home, within 30days, and the best part is this.

Tickets to enter each draw cost you just N2000 a ticket.

How better does it get, good things happen to good people, and the goal at Triple-T premium Estate is to continue to replicate this.

This promotion is continuous with 8 more premium flats to be won in the 1st phase, and 12 more in phase 2. and since a winner can win only once,becuse

                   Our goal is; we won't stop until you own your own.

Its a movement and we believe, "fortune always favors the bold".
The festive season is upon us and #ownyourown is one more reason to feel excited. The countdown to the next draw has begun, we could be showcasing your interviews and writing your story next.
Enter Now: OWN YOUR OWN 
2nd Draw ticket closes 29th November –  2nd Raffle Draw holds 1st of December