Eight Winner's Story
Ramadan is a time for spiritual reflection, and devotion. A time for dawn to dusk fasting, and nightly feasts. A time of intense prayer and worship for Allah's blessings and protection. A time when Mr. Husein Mustapha, a devoted Imam became our 8th winner in the Own Your Own promotion.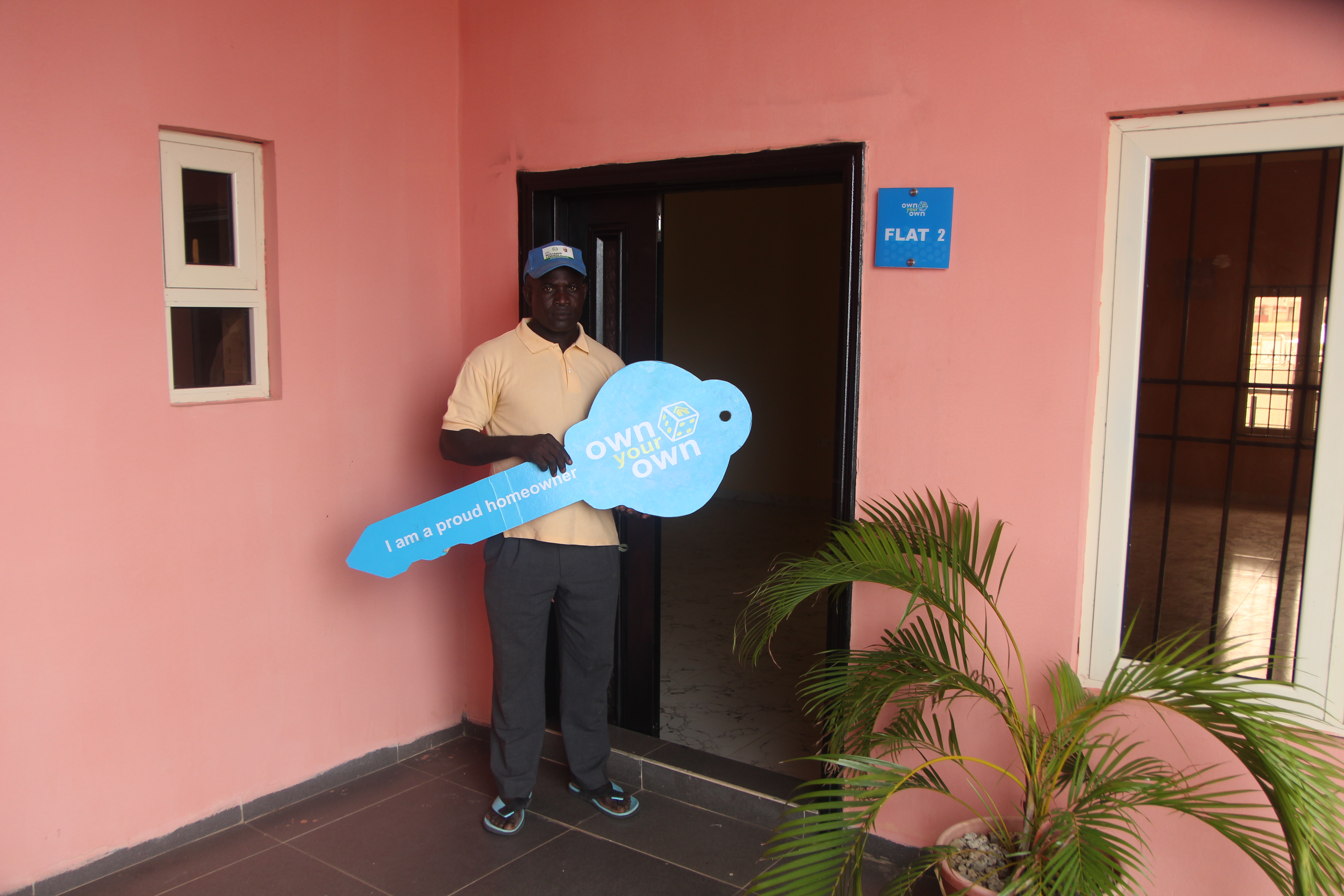 Married with four children and living in a rural settlement in Abuja. Mr. Husein entered the Own Your Own promotion hoping to be our next home-owner. He bought his tickets on 24th May 2019 for the 8th raffle draw. Six days later, he emerged the lucky winner of our premium two-bedroom flat. He had the winning ticket number E30D0F8.
With so much excitement about his new home, Mr. Hussein was happy to be interviewed by a member of the media team. He spoke on how he got to know about the Own Your Own promotion.
In his words: "I heard about it on the radio during the live interview of the previous winners. At first, i thought i might not stand a chance of winning but then i got inspired and decided to try my luck."
All he ever needed to do to become a homeowner was just to take his chance in the raffle draw against thousands of other tickets. He couldn't hide his excitement answering our next interview question on what he plans to do with his new home.
His response: "I haven't decided yet on it but I hope to make a decision acceptable to God and my family."
He equally spoke about the genuineness of the promotion. He now believes in its transparency and how it is open to everybody from different parts of Nigeria, regardless of tribe and religion. He also stated he will go about notifying his friends, and family about the Own Your Own promotion. He wants them to know how true and real it is, and they should all key into it.
The joy of winning a new home cannot be quantified, knowing a low-income level isn't enough to possess such a huge asset. And that was the case for Mr. Hussein who works as a security commissioner.
Recounting Draw Day – 30th May 2019
The day came for the 8th raffle draw of the Own Your Own promotion. Adequate preparations were in place. A lot of expectations and anxiety could be seen on most faces of the audience. Who would be the next winner seemed to be the obvious question of the day?
The draw held at the property on Plot 20 Kagini District, Opposite Arab Junction, Kubwa Expressway, Abuja. It was live streamed on various social media platforms. National Lottery Regulatory Commission and Consumer Protection Council representatives were in attendance to ensure transparency.
Without wasting any much time, the 8th raffle draw kicked into action. Tickets from the sealed package were emptied into the transparent raffle drum. The audience present and the live stream audience were able to see this process.
A random person from the audience, who isn't a participant rolled the transparent raffle drum. After the drum has been rolled and all the tickets mixed. Another random non-participant picked up the winning ticket. Noting that both non-participants put on a blindfold as part of the rules for the Own Your Own promotion to ensure transparency.
Ticket Number E30D0F8 with the name Husein Mustapha was the lucky ticket drawn and announced as the winner of the 8th draw of Triple-T Premium Estate's Own Your Own promotion.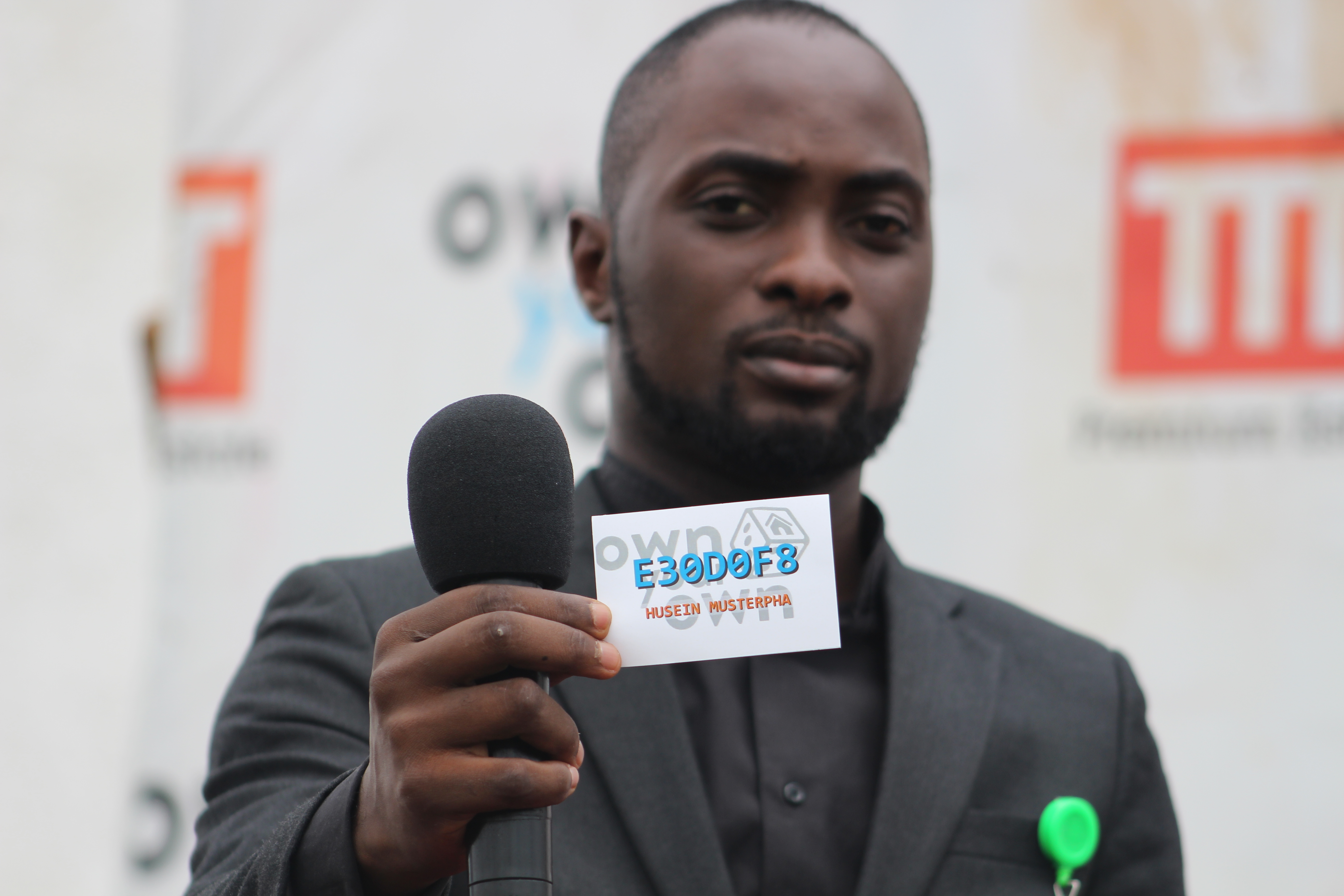 Following the standard process for contacting the winner if they are absent at the draw. A live phone call was placed by the host MC Ebeneza through the public address systems for all to listen in.
The good news was delivered to Mr. Husein Mustapha who was surprised and excited at the same time. The media team set out to pick up Husein from where he was. On arriving at the draw venue, Husein was quite surprised at the enormous crowd waiting to welcome him. The team verified his identity before giving him the keys to his apartment.
A crowd of well-wishers swarmed around him as he made way to his apartment. There were lots of handshakes and best wishes. The crowd marveled at the first-class quality of Husein's new home, courtesy of Triple-T Premium Estate Limited.
It all seemed too good to be true for Husein who never thought he would one day own a premium home in a good environment at little or no cost. He had his doubts but on listening to previous winners on the radio. He got inspired, took his chances and hit the grand prize.
In line with Triple-T Premium Estate limited procedure, the signing and documentation ceremony was held the very next day and Husein got the property (Flat) deed of assignment in his name for the apartment won and a winner's certificate, signed, sealed and delivered.
From Triple-T Premium Estate and partners, we extend our warm felicitations to Mr. Husein Mustapha and family.
Own Your Own Promotion – A social impact movement and not just a promotion
We are proud and love what we do.
Gradually looking back from the start, the goal of the Own Your Own promotion right from its brainchild stage is to be a quintessence of positive social impacts. Nonetheless, being a top-notch provider of sustainable solutions to the housing challenges faced by a lot of Nigerians.
Hence, its vision of touching the lives of Nigerians is being realized and maintained to increase the rate of home-ownership in Nigeria from its low-level percentage of just 25% to a higher value in the coming years.
The Own Your Own promotion has been going strong for eight months and keeping to our promise of every 30 days, one lucky home winner of our premium two bedroom flat must emerge. The joy on the faces of each home winner cannot be quantified, it is simply priceless!
This goes out to say that we are not relenting until we achieve going beyond the vision of the Own Your Own promotion and becoming one of the leading real estate firms in Nigeria. This is why at Triple-T Premium Estate, we are built on transparency, integrity, credibility, hard work and we are always delivering premium quality projects.
And just like how we started in October 2018, we are pleased to announce that phase one of the Own Your Own promotion has reached its glorious end. It has elapsed after eight months, giving way to phase two and other new offerings based on demand from Triple-T Premium Estate.
Own Your Own, touching lives… One house at a time.